It's ABSOLUTELY FABULOUS sweetie darling!

Wheel's on Fire! Click image for the theme song, sweetie!

Welcome to the Absolutely Fabulous world of Edina Monsoon and Patsy Stone, fashion slaves and social deviants. Eddy's life is centered around NAMES, NAMES, NAMES! and labels like our favorite fashion maven, Lacroix! Eddy's partner in crime is Patsy "I'm an alcoholic" Stone, a slutty version of Ivana Trump who puts the "Ho" in "Haute Couture" . Watch Patsy torment Eddie's nun-like daughter, Saffron. You Little Bitch Troll From HELL! Join in the bloody buggery fun as Eddie and Patsy romp around London and live from crisis to crisis!

AbFab Images and Sounds!
Get with it sweetie, it's practically LACROIX!
Click on the thumbnail for a more FABULOUS image!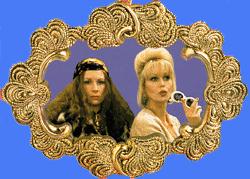 Make Mummy a vodka, sweetie...
Click on good old Patsy for the AbFab drinking game!

Links, Sweetie!
Go Back to Disco Pablo's Fiesta Page!
The Copacabana Lounge!
Check Out Disco Pablo's ABBA Page!